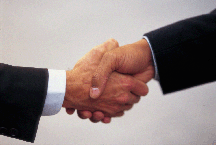 We believe that everyone we come in contact with is to be treated with respect, courtesy, honesty, and fairness.
We expect our company to be viewed by the community as a name they are proud to be associated with. Isn't it nice to know there still are companies who pride themselves on the quality and performance of their work ? We look forward to serving you.
Our customers are entitled to:
Highly trained & licensed technicians
The proper equipment to take care of their problems
Quality products
Prompt, efficient service
Courtesy
Customer knowledge and education
Receive the service they are paying for
Expect us to provide a healthy environment
Rely on our ability
A firm written price is indeed a firm written price based on the facts & conditions under which that price was agreed to. We don't raise our prices or add additional fees just to earn additional profit once an installation contract is committed to. There are circumstances where additional fees could apply. For example, if a customer makes changes to a job in which the contractor determines he will need more or different parts, or more labor hours to complete the job then a change order is created which will state the additional price for the change. Another example is if a job is agreed upon, but during the progress of that job an obstacle or problem is uncovered like something underground which was not visible to the customer and the contractor then it's only fair that this be dealt with in a way that benefits all concerned.
We complete our work in a timely manner as long as issues beyond our control (like inclement weather or parts that are backordered) don't interfere. We always communicate with the customer promptly in the rare event there is a delay.
The best indicator of a contractor's honesty and reputation is his list of satisfied references. We would be pleased to furnish our list of satisfied references to you.